Famosiz
Genre(s)
Alternative Rock, Piano Rock, Industrial Rock, Electronica, Hip-Hop, Comedy
Years active
Late 2007 - 2011
Location
Ottawa, Kansas, United States
Influences
CAKE, "Weird Al" Yankovic, Nine Inch Nails, Barry Manilow.
Label
Crap Weasel Records (2007-2011)

Fueled by Pumpkin Juice (2011-Present)

Albums
"You Can't Take This"
Other Releases
"What is This Song All About?"
Lineup
See "Membership"
Websites
Famosiz's Facebook
Famosiz (pronounced fuh-moh-ziz) was the name of a experimental rock band from Ottawa, Kansas. The group specialized in alternative rock, hip-hop, comedy/parody, and various electronica genres. The band began as simple joke, referencing the fact that several other teenagers were forming garage bands. However, the band had a minor Internet hit with their single, "Ryan Started the Fire."
After the release of their first full-length album in late 2008, the band went on an indefinate hiatus. The band officially broke up in July of 2011.
Eight Centimeter Skrewz and Origins (2007-2008)
Edit
Famosiz can trace its beginnings to an earlier band, entitled "Eight Centimeter Skrewz" (The name being a parody of Nine Inch Nails). Eight Centimeter Skrewz was formed in Ottawa, Kansas on October 12, 2007 by Paul Thomas and Logan Swafford. Swafford later left, citing creative differences. Thomas invited fellow schoolmates, Katie Doolittle, Anna Stone, Darrah Jorgensen, Amanda Ahrens, and Lindsay Frank to join him. The bands line-up was constantly changing, but Thomas, Doolittle, and Stone were considered the key members. The band produced one demo, entitled, "What is This Song All About?" The lead-off song infamously sampled NIN's hit "Closer."
Despite getting good publicity, Eight Centimeter Skrewz disbanded on February 28, 2008. Thomas, Doolittle, and Stone decided to take the band in a more eccentric directing, and on March 19 the remaining members were re-christened as "Famosiz." Famosiz signed with local Ottawa record company Crap Weasel Records. This company was newly formed, and hoped to see Famosiz become big.
"Ryan Started the Fire" and Rise to Fame (2008)
Edit
Originally, Famosiz was scheduled to release their debut LP in April. The band chose the name "Price-Check on Aisle 3." Paul Thomas got the ball rolling, but, due to lack of interest, the LP was put on the shelf. Then, on March 26, Famosiz released their debut single, "Ryan Started the Fire." The song was a surprise hit. "Ryan Started the Fire" is itself a parody of Billy Joel's 1989 hit, "We Didn't Start the Fire," and talks about the hit television show "The Office." (The title and chorus is a reference to the episode entitled The Fire, in which the office nearly catches on fire. Dwight Schrute sung a snippet of a parody he called "Ryan Started the Fire" in the episode. Paul Thomas, who wrote the Famosiz version, only used the chorus that was feature on the show. Everything else was completely re-written). A music video was scheduled to be released during the summer, but due to time constraints, was never filmed or released.
On April 1, Famosiz released two free internet only singles, "Dwight's Speech" and "Bean Burrito from Hell." The following month, on May 5, Famosiz released their second tangible CD single, entitled "The Cat Rap." Compared to "Ryan Started the Fire", "The Cat Rap" sold remarkably well. Thomas stated, "It's surprising that an original song can sell this well."
On May 21st, Ally Bittner was pegged as Famosiz's fourth member; on June 3, the band added two live dancers Kelli "Chopstyx" Doolittle and Jeff "Jefferfinkle" Doolittle; and on June 10, Famosiz announced the addition of one final member, rhythm keyboardist and videographer Olivia Paine. On July 11, Famosiz finished recording their debut album. The album was released on August 25 to high critical acclaim. All of the new members later left the band after the release of You Can't Take This.
On Hiatus and Break-up (2009-2011)
Edit
In mid-2009, Trina Sieg was inducted as new guitarist following the departure of several members, notably, Kelli Doolittle. In late July, the band confirmed that they were working on new material for a Harry Potter EP, which was set to be released later that year. In the middle of the year, Paul Thomas and Trina Sieg split from the band and created their own Harry Potter 'wrock' (that is to say, wizard rock) band, entitled The 8th Horcrux. Thomas stated that Famosiz was on permanent hiatus.
In early 2011, the band's label was bought out by Fueled by Pumpkin Juice Records. Crap Weasel records became a subsidiary for Fueled by Pumpkin Juice and all of the bands material, master tapes, and other assorted oddities were transfered from Crap Weasel Records to Fueled by Pumpking Juice Records. In July of 2011, Paul Thomas announced that Famosiz had broken-up permanently.
As stated above, the band considered itself an alternative rock, hip-hop, and comedy/parody band. Famosiz regularly sampled from television and movies, and built up a reputation for producing sample-heavy songs. For instance, their original demo "What is This Song About?" sampled (rather obviously) "Closer" by Nine Inch Nails, "God Shuffled His Feet" by The Crash Test Dummies, and (on the edited version) "Let Me Be Your Hog" by "Weird Al" Yankovic. Due to their growing popularity, Famosiz decided to stray away from their sample-heavy musical roots near the end of their career in exchange for a more traditional method of song writing.
Equipment
Edit
Katie Doolittle, the groups main pianist and synthesizer artist, used a Casio Privia synthesizer. Paul Thomas, when he preformed on a keyboard, used an early 90's Radio Shack brand Concertmate keyboard and the FL Studio 8 Computerized Synthesizer. Thomas also used a heavily modified acoustic guitar with only one bass string (Also called a Unitar).
Relationship With Fans
Edit
The band was, and still is, very open with its fans: it even created an e-mail address, famosiz@yahoo.com, in which enthusiatic fans can e-mail the band.
Membership Timeline
Edit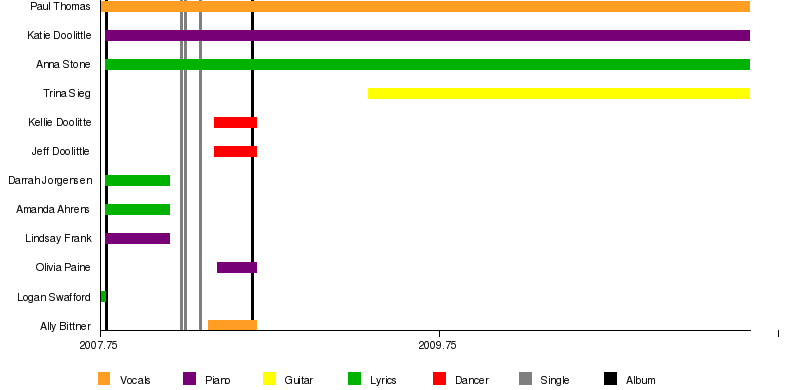 Influences
Edit
The band cited CAKE, Aerosmith, Red Hot Chili Peppers, Green Day, Nine Inch Nails, REM, Barry Manilow, Billy Joel, Beastie Boys, Beck, Counting Crows, Barenaked Ladies, Nirvana, Negativland, The Prodigy, Lemon Jelly, Röyksopp, U2, Pink Floyd, They Might Be Giants, "Weird Al" Yankovic, Reel Big Fish, and The Police as major influences to their sound.
Discography
Edit
External Links
Edit
Famosiz's Facebook: https://www.facebook.com/group.php?gid=10602653324
Famosiz's MySpace: http://www.myspace.com/famosiz
Famosiz's Email: famosiz@yahoo.com
Ad blocker interference detected!
Wikia is a free-to-use site that makes money from advertising. We have a modified experience for viewers using ad blockers

Wikia is not accessible if you've made further modifications. Remove the custom ad blocker rule(s) and the page will load as expected.