Matt Gates is an award winning film composer and art music producer.
Biography
Edit
Gates attended the University of Arkansas, the Pacific North West Film Scoring Program, the University of Southern California and the ASCAP Film Scoring Work Shop. He majored in musical composition and film scoring. "From the first moment I understood the mechanics of music I began writing it." Gates stated in an autobiography.
"I remember those first moments of creative bursts as being the most exhilarating experience of my life to that point. The most important thing in my life from that moment on became recreating that experience for people other than myself. I want to give this gift to people in mass, billions of people would not be too many."
Awards Won
Edit
Top Ranked Senior - The University of Arkansas (2004)
BMI Jerry Goldsmith Film Scoring Award (2005) awarded semi annually by a panel of industry veterans
ASCAP Film Scoring Fellowship (2006) selected to one of 15 positions out of over 300 candidates
Partial Filmography and Credits
Edit
This is list is only partial. If you have a complete list, replace this section with it.
Motion Pictures
Edit
Pilgrim's Progress (Composer) Danny Carrales, dir.
Carbon Copy (Composer) Evans Butterworth, dir.
Out of Ink (Composer) Anthony Lund, dir.
Beowulf, Prince of the Geats (Composer, theme only)

EZ money (Composer) Dan T. Hall, dir.
Fortune Misfortune (Composer) Sarah Ayers, dir.
E.M.S (Composer) Raj Patal, dir.
Hazelnut Drive (Composer) Lauren Connelly, dir.
To Steel a Kiss (Composer) John Rothell, dir.
Exegi Monumentum (Composer) Daniel Levine, dir.
Warlord Online (VG) - On the Go Games (Composer)
Finding Nemo Disney Theme Park Attractions (Arranger, Orchestrator)
Contemporary Works:
"Journeys" (Symphonic Wind Ensemble) Commissioned by W. Dale Warrren
"5 Duets" (Clarinet and Saxophone) Commissioned by Stan Morris
"O Come Let us Adore Him" (Orchestra) Commissioned by Park Hill Church
"Freedom's Call" (Orchestra) (University of Arkansas Symphony)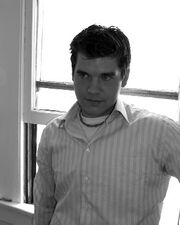 External Links
Edit
Ad blocker interference detected!
Wikia is a free-to-use site that makes money from advertising. We have a modified experience for viewers using ad blockers

Wikia is not accessible if you've made further modifications. Remove the custom ad blocker rule(s) and the page will load as expected.